Construction & Civil Engineer magazine features Kelling Group
A hire power
The UK's leading hirer of mobile eco welfare units and vehicle mounted access platforms, to infrastructure sectors, Kelling Group is setting the standard for modern, environmentally-conscious specialist equipment hire. The business prides itself on providing clients with the most modern, innovative, eco-friendly specialist assets in the market. Last year, the group invested c. £20m in fleet with a similar investment anticipated in the next 12 months.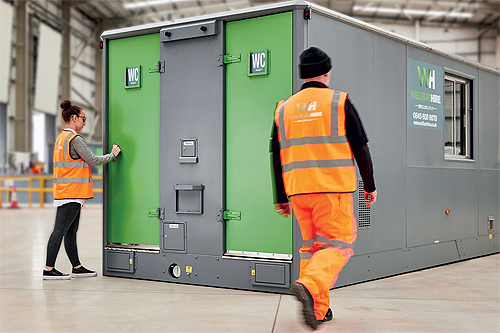 A true innovator in its field, Kelling Group is a specialist equipment hire business built on five key pillars: Quality, Service, Environment, Wellbeing and Value. Backed by dedicated 'Kelling Guarantees' for each principle, the Group vows to hire out only market-leading vehicles and equipment, at the most competitive rates, and with premium levels of nationwide customer support. Kelling's specialist units are designed to maximise smart and effective working, with the Group also offering some of the cleanest and greenest products on the market – many of which include the UK's first Lithium hybrid power, solar panels and fuel saving systems – with CO₂ reduction rates more than 15 times the industry standard.
Kelling is a strategic investor in core infrastructure sectors, such as rail, highways, power, telecoms, utilities and civil's projects. The Group has two specialist equipment divisions: Access Hire Nationwide, which specialises in vehicle mounted access platforms, and Welfare Hire Nationwide, focusing on mobile eco welfare units, welfare vans and lighting. As a Group, Kelling and its subsidiaries have invested in some of the sector's most advanced vehicles and equipment.
"We have the largest and most modern fleet in the UK in our chosen specialist areas of focus," says Stephen Moore, Group CEO. "Our strategy is to partner with our clients, providing the best a and service for critical infrastructure projects in the UK."
The Group also aims to become the industry's most eco-conscious operator coinciding with growing calls for businesses to hit new carbon emission targets, as well as increase their focus on sustainability. As a result, more and more major authorities and organisations, including HS2, Network Rail, and Highways England, see Kelling as a key partner in helping them achieve their environmental and CSR goals.
Andy Grayshon, Commercial Director Welfare Hire, states: "The average age of our assets is two and a half years, and the maximum age is five years. Along with a unique design, our mobile Eco welfare range uses the latest in hybrid power technology and smart water systems, and we tow all our units with our own fleet of low cost, low carbon, modern delivery pick-ups."
"Our products can make an immediate positive environmental impact," Grayshon says. "One example of this is the use of Smart XL Water ceramic toilets and services. Traditional welfare units have chemical toilets that are required to be serviced weekly. On top of that, their tank sizes are relatively small – typically around 50 to 80 litres – so you will often be at full capacity very quickly. Our Smart XL Water system, on the other hand, is used as part of a water flushing process like you have at home or in an office, with the tank being up to four times bigger, more hygienic, and longer lasting. This helps to decrease the need for disposal services, and therefore, reduces transport journeys being made to and from the site by around 60 per cent. If you think about that, by using our eco products, you are eliminating hundreds of thousands of tonnes of CO₂ annually.
"A second differentiator is our use of smart hybrid power," Grayshon adds. "We were actually the first in the market to introduce Lithium hybrid power for our units, allowing customers to run off battery power for longer and, consequently, further decreasing reliance on a generator. It means our products can reduce a contractor's carbon footprint, fuel usage, costs, and even noise pollution. Typically, with our smart hybrid power management, you can achieve up to 94 per cent running time on battery and even guarantee silent running overnight. Fuel usage and costs for many clients drop to as little as one pence per day.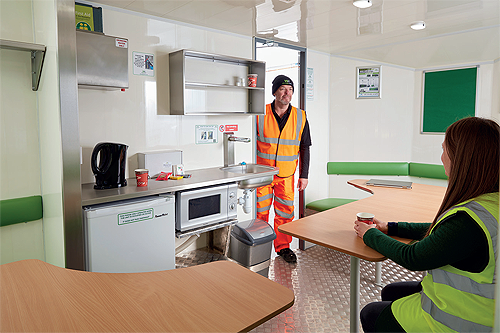 "Finally, while many competitors are using HGVs to deliver their units, we are using our own fleet of modern, Euro VI compliant, low-emission pick-ups, driven by our own experts. This provides efficiencies in terms of site access, flexibility in delivery, and faster set-up times. Our units can now be set up in just six seconds, which is much quicker than anyone else in the market, as well as creating a much smaller carbon footprint. The upshot is that in 2021, all our collections, deliveries and relocations will be quick, easy, low cost and low emission."
Though many companies quote the environmental benefits of their products, not one of Kelling's competitors can lay claim to Welfare Hire's Smart XL Water or Lithium hybrid power systems. Always looking for ways to improve, the Group recently added telemetry to its capabilities, allowing for smarter, more effective remote management of its assets. The result is an unrivalled package of innovative products with a premium service that continues to attract the UK's biggest and most successful infrastructure firms.
"Some of our latest work has come with utilities contractors as part of the AMP7 national framework," Grayshon states. "We are also working with Network Rail, as well as a variety of SME and Tier One contractors on CP6, a key rail framework."
"Kelling is also keen to invest in people, developing skills and expanding its workforce. Over the last 12-18 months, we have continued to recruit, expanding the team so that Kelling can offer more dedicated service, sales and customer support. As we move forward into 2021 and beyond, we'll continue to invest in the business and core infrastructure areas," states Moore.
Before each one of its welfare units is delivered to a client, it undergoes a 62-point inspection regime encompassing all manner of mechanical, electrical and functional pre-hire checks to ensure that the product is of a quality beyond the industry norm.
"Going above and beyond in our service is a vital part of maintaining high quality assets, and the work that goes into that requires investment and efficient processes," Grayshon asserts. "We do everything we can to make sure that our units show up on time, that they work in the way they are supposed to work, and that our clients can rely on the quality of the kit. That's why we also plough substantial investment into the updating of our fleet, and ensuring that it meets the needs of our clients."
Of course, though Welfare Hire and its products prove increasingly popular, the business is not Kelling's sole focus; the Group's other subsidiary, Access Hire, is an equally thriving operation. Another market-leader in its specialism, Access Hire has a fleet approaching 1,000 vehicle mounted access platforms for safe working at heights of up to 16.5 metres. As well as efficiently serving Kelling's main infrastructure sectors in telecoms and power, Access Hire also provides solutions for CCTV installation, facilities management and tree surgery – all supported by customer service available 24/7, 365 days a year.
Access Hire was ranked number one for vehicle mounted access platforms in the UK in November 2020 by Cranes & Access magazine. Martin Whitehead, Sales Director Access Hire, states: "Access Hire is the market leader in VMAP hire in the UK. We continually invest and have the largest and most modern fleet in the market, working with our clients to ensure not only the best, most modern assets, but also first class service, which is vital when providing specialist equipment to critical infrastructure markets."
As part of its brand promise, Kelling pledges to provide quality products and services, unmatched value, and optimal wellbeing onsite – all whilst minimising the environmental impact on our planet. Commitment to this promise has been a key part of the Group's success over the years, and the importance of the mission remains unchanged in 2021 as Kelling and its subsidiaries move into the future with ambitions for more growth.
"Kelling Group has grown organically, and in some respects under the radar as we've quietly gone about our business," Moore comments. "More people are now becoming aware of us and that's great because we have some genuinely unique propositions. We can add a lot of value around innovation, sustainability, quality and wellbeing. In the next three to five years, we will become even more established in the market, working in partnership with key clients in our core infrastructure sectors. With our help, we know that our partners across the UK will be able to deliver smarter and more modern approaches to their projects to help future proof their business."